Best Practices Guide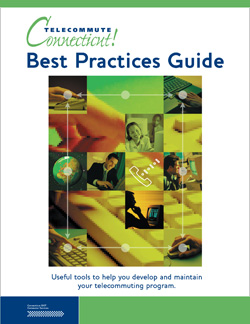 Telecommute Connecticut developed this guide for companies considering or involved in developing, managing and maintaining telecommuting programs. The Best Practices Guide contains information, guidance, and findings that will help senior management, managers and supervisors develop and implement telecommuting strategies, and program policies and practices.

The following documents are a sampling of the comprehensive materials contained in the guide:

Table of Contents

Chapter 2: Why Consider Telecommuting

Home Office Checklist

Telecommuter Ergonomic Tips

To get your free copy of the Best Practices Guide, click here.