About Telecommute Connecticut
Telecommute Connecticut! -
a commuter service of the Connecticut Department of Transportation - is a comprehensive resource that helps employers design, implement and maintain a telecommuting program that enhances the bottom line and makes them the employer of choice.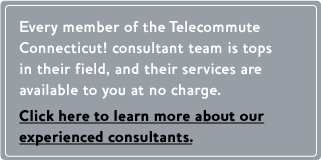 We make the collective knowledge and talents of highly experienced professionals in the fields of training, human resources, computing, networking, telecommunications and more, available to your company.

Telecommute Connecticut has helped many companies make telecommuting work for them throughout the state of Connecticut.

Every telecommuting program our experienced team of consultants helps design and launch is completely customized to meet the needs of the business or organization.


Contact Us