American Business Benefits From Virtual Work Environments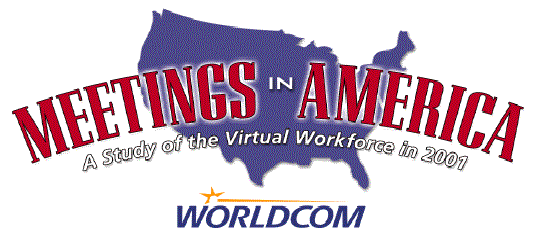 The widespread adoption in today's workplace to using technology for remote work and collaboration benefits the bottom line with the results of efficient worker productivity and savings of time and money, according to a virtual work study commissioned by WorldCom Conferencing.
Called Meetings in America III: A Study of the Virtual Workplace in 2001, 510 qualified participants were surveyed to reveal the trends and attitudes towards virtual work and its impact on productivity. While the explosion of virtual work has been driven to a large degree by telecommuting, the study defines virtual work as putting the right people together to make efficient and effective decisions - regardless of their geographic location.
"The growth we're seeing in virtual work is enabled by digital technology - e-mail, Web conferencing, high-speed Internet connections - but businesses wouldn't encourage virtual work if it didn't have bottom-line benefits," said Tim Reedy, WorldCom vice president of Conferencing Marketing and Finance. "In today's global economy, proactively adopting and encouraging virtual work is essential. "
Two-thirds (67 percent) of all managers and staff workers surveyed have engaged in virtual work. Nearly half of the workers (46 percent) work remotely over the net at least once a week, either from home or with colleagues at other company sites. Thirteen percent of the remote workers telecommute on a full-time basis at least a few times a week.
Nearly a third (31 percent) of the respondents said they work in a "virtual management structure," either managing staff members - or being managed - remotely. The study found that many organizations have formal virtual work policies (27 percent), and 21 percent work for companies that allow virtual work practices, even if no formal policy exists.
91 percent of those surveyed said that virtual work saves their companies time and money, as a result of less travel and more productivity. Many companies are pursuing virtual teams to increase technology and knowledge transfer, increase the speed of solutions and decrease bottlenecks or delays between customers and suppliers or geographically dispersed employees.
The study found that 61 percent of workers invest their saved time into more work-related tasks. The rest use it to spend more time with friends and family. The study also found nearly one in five (16 percent) would trade a larger salary for the ability to work virtually.
About the study: The 510 respondents were selected by a quota of equal parts management and staff from small, medium and large companies throughout the United States.
To view the study